April Wilkerson 10 Questions Answered!
Sep 28, 2023, 15:41 PM
The San Antonio Fall Home & Garden Show returns to the Alamodome October 6-8, 2023, offering innovative products and hundreds of industry experts under one roof.
This October, the show will host YouTube personality April Wilkerson, an accomplished woodworker and metalworker, and the creator of Wilker Do's. Wilkerson began woodworking in 2013 as a hobby and it quickly transformed into a passion. She offers written and video DIY project tutorials on her website and YouTube channel.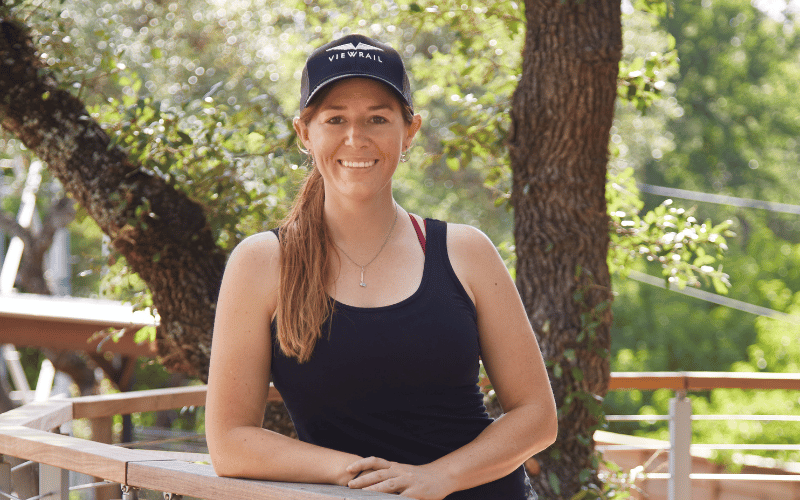 We sat down with April to discuss everything from how she came into her passion to her favorite projects in her own home. You can catch Wilkerson on stage Friday, October 6 at 4 pm and Saturday, October 7 at 11 am.
Q: What inspired you to pursue a career in metalworking/woodworking?
A: My interest in building came out of necessity. I didn't have the money to afford what I wanted, so I bought some cheap wood and borrowed tools to see if I could build it instead. It took me weeks to figure out how to do even the simplest thing, but once I realized I could, I made a list of what I wanted and have never stopped.
Q: How has your presence on YouTube contributed to your career?
A: Before YouTube was in existence, people would spend their lives building up a reputation to be able to charge enough for their work. YouTube made it possible for me, somebody who didn't have any experience in building, to create a career right off the bat. The difference is YouTube is a place where you can share your journey instead of only selling the end product. In fact, I never sell my end product. I only build for myself, but I sell my experience on how I do it.
Q: What's the best project on your channel for someone who wants to start building?
A: I always recommend picking a first project based on what you actually need. I find that's the best way to motivate an individual to push through the obstacles that come with building. So it's hard for me to pick a good starting point for somebody. However, I have tons of simple projects that cover a wide variety of niches and uses. I also sell plans and templates to make it more simple, and even have a big library of free templates.
Q: Where do you pull inspiration from for the furniture pieces you've been recently working on?
A: My inspiration comes from what I need or want in my life. I get into kayaking and then make things centered around that. I pick up golf, here comes golfing projects. I want chickens, prepare for a coop build and coop upgrades! Building is hard and I find that if I truly want the end product then I'm very motivated to push through the obstacles and it even becomes fun. However, if I don't have that pull, I want to give it up when I run into a slight problem.
Q: What advice would you give to someone who is curious about entering the industry of woodworking and carpentry but doesn't know where to start?
A: I have two main tips. First, pick a simple project that you actually want and will use. My first project was a decorative 14 foot tree in my house. Then, it was a laundry basket holder for three baskets and a pantry… the addictiveness and empowering feeling, for me, comes from improving my space and using the things I put effort into. Second, only buy the tools you need for that project. So many people think they need all the tools in the world before starting. Don't do that! Pick the project and then buy the tools you need to complete it. Build your tool box that way. As a bonus tip, buy your first tools from a pawn shop. I spent $110 when I first started but walked out with a jigsaw, a circular saw, a drill, a 18 gauge nailer, and a palm sander. Those starter tools got me through months of projects. On another note, people find their motivation from different things. I have friends who don't care so much about the end product being useful to them. Instead, their motivation and empowerment comes from the process and from enriching another person's life by gifting them or selling them something they made. My final tip is to find the source of your motivation so you can lean into it.
Q: What is your favorite piece in your home that you've built?
A: I love my hair stick as much as my kitchen table, as much as my property gate. Every project holds value to me and marks a huge accomplishment, especially in the beginning when I was fighting such a huge learning curve on every single new thing I wanted. Building a backsplash is so different from building a fence, which is also very different from welding a fire pit. On every project I do a ton of research with lots of trial and error to work through. At the end, I was on top of the world and now hold the finished product as treasures. It sounds cheesy, but it's true.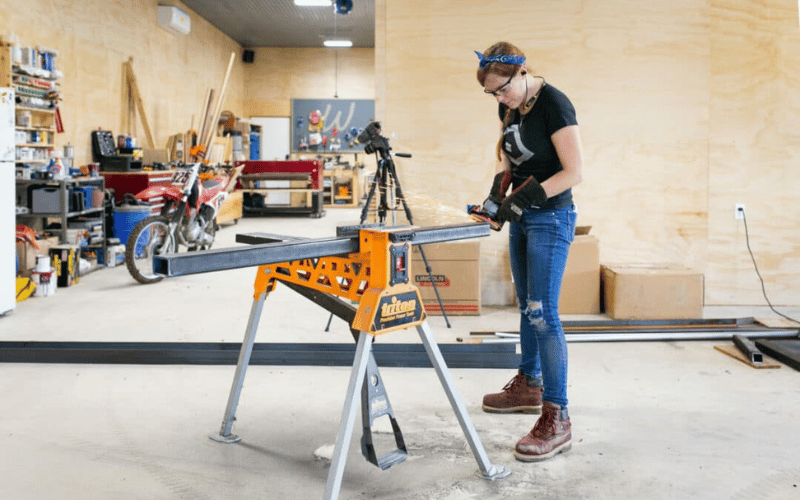 Q: Who in the woodworking and metalworking community inspired you early on in your career?
A: There are two standouts for me. Jimmy Diresta has always been my biggest inspiration. The man can build anything out of anything and that jack-of-all-trades-ness has always been the appeal. Some makers want to specialize, and that's fine, but I would go crazy. I want the independence of being able to do anything that pops into my head or that I confront in life. Jimmy started building at 14 while I started at 25. He had a head start on me, but I'm getting there! I also love Chip Foose. I'm not a car person but would watch Overhauling because I find him so inspiring. His ability to cover so many specialties within a niche from front to back and able to do them all so well inspires me. Chip also holds onto a passion for a lifetime without smothering it or losing it by turning it into a career, which inspires me as well.
Q: How have you navigated being a successful woman in a male-dominated industry?
A: It was harder in the beginning with me being the only woman on YouTube building a niche. I handle a lot of it by ignoring things. An example is not letting blatantly ignorant comments get to me. Politely making corrections that are disrespectful, along the way. Another example is when I'm ignored when I walk into the welding store, but the man I walk in with gets asked what he needs. I don't get haughty but I do say, "Oh, I'm actually the welder." That slight correction goes a long way. Throughout my journey, I have been motivating and encouraging any woman I encounter that is doing something handy to get on a platform like YouTube, Instagram, or Facebook because I know if more women were seen building or using tools, the easier it would be for all of us. It kills the obscurity of it. When I first started, I was one of very few women at conferences. Now, there is an equal amount — if not more women!
Q: Are there any woodworking or metalworking trends you're anticipating for this season?
A: I'm not sure. I'm the wrong one to know of trends as I sort of keep my head down and focus on what I'm doing. I have so much I'm always trying to accomplish that I don't pay much attention to mainstream outlets and therefore miss a lot.
Q: Is there a current project/part of your own home that you want to work on/improve at the moment?
A: My to-do is 4.5 pages long. I most recently built an indoor golf facility with three bays. But now that the weather is turning nice, I want to build a pergola, a new chicken coop, and a skeet shooting area off my deck. I would also love to build a rock crusher, just to name a few.