Joe and Chase Looney
Joe and Chase Looney are the fan favorite father-son carpentry and build duo featured on HGTV's hit series, Fixer to Fabulous. When he's not busy running his family woodworking business, Chisel & Sawdust, Chase Looney is Dave and Jenny Marrs' go-to carpenter. Whenever they need help making a special custom project for a client in Bentonville, AR, Chase & Joe are the first call to get the job done. In its first three seasons, Fixer to Fabulous has reached over 83.9 million viewers. As a master carpenter and construction manager by profession, Chase has followed in his father's footsteps and worked alongside him his entire life. Together, their expertise and craftsmanship take projects to new heights - whether it's building a grand opening archway or one-of-a-kind wood designs. Their creativity knows no bounds. These two quirky characters not only bring beautiful carpentry and design into every home, but also personality and whimsy to every job site.
Live on the Fresh Ideas Stage 4 pm on Friday and 11 am and 1 pm on Saturday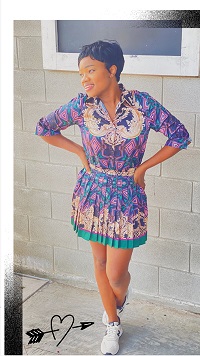 Jordylolo Events
Courtney is the vibrant and passionate leader behind Jordylolo Events! She is a mommy entrepreneur as well as an Active Duty service member in the Air Force. She is inspired by her two daughters, Jordyn and Londyn, who are creative, fun, and full of energy!! She incorporates those same elements into her event experiences. Courtney founded Jordylolo Events with one goal in mind: to design and produce creative and unforgettable events for every occasion. From small intimate affairs to large-scale parties, Courtney strive's to execute events that not only aim to impress, but also create uniqueexperiences for clients and their guests that last long after the fun is over. See Courtney's designs at the show!

www.jordylolo.com